There are many so called Earn Free Recharge App / apps that gives you free mobile recharges for doing something or the other. After testing a few apps myself I am happy to tell you about mCent. I am personally using this app and do trust me when I say it works it actually does. Been using it for the past 2 weeks and already earned a mobile recharge for Rs.100 by downloading just 3 apps.
[symple_divider style="solid" margin_top="20″ margin_bottom="20″]
Now few of the reasons I am suggesting mCent are:
Works globally
High credits given compared to others apps
Can be accessed using desktops too[symple_divider style="solid" margin_top="20″ margin_bottom="20″]
HOW TO REGISTER:
(I will be using INR/Rs i.e Indian Rupee as a default currency in the article to explain.) So let's start
Now you can download it directly from the mCent offer page
OR
If you are an android user [symple_button url="https://mcent.com/app/?mcode=FPWEV4&tcx=OTHR" color="black" size="default" border_radius="3px" target="blank" rel="nofollow" icon_left="" icon_right=""]Download from Google Play[/symple_button] [This link only works on mobile devices]
Make a new account if you do not have one or just sign in if you do have an account already
Select your country and enter your mobile number. A verification SMS will be sent to you so enter your correct mobile number
You will be taken to the "New apps" page [on mobile]
Now select any app you want to download and do what is mentioned next to the app to earn credits.
Please note: Use the default browser or you don't get any credits.
May have to wait around 30 minutes to get the credit, so do not panic.
That is it, keep downloading and keep earning. If you use a wifi connection with unlimited data plan than this is free money for you, if you know what I mean 😉
[symple_divider style="solid" margin_top="20″ margin_bottom="20″]
OTHER BENEFITS: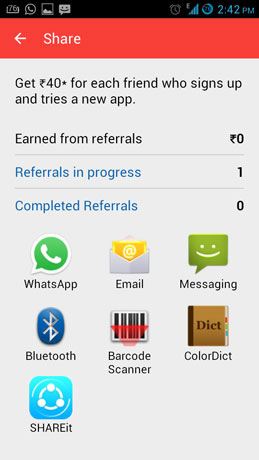 mCent gives you Rs.1 daily for checkin everyday, although after a couple of days you need to download atleast one app to keep the "Daily Checkin" feature unlocked.
You get paid a whooping Rs.40 for each referral you make. So don't be shy and share.
[symple_divider style="solid" margin_top="20″ margin_bottom="20″]
mCent Tip:
If you have an unlimited data plan, it should not bother you with the apps downloaded. In fact you are getting paid with mobile recharge for atleast a partial amount of the internet bill you paid. 😀
[symple_divider style="solid" margin_top="20″ margin_bottom="20″]