The last time this phone was all on the news was during the Motorola acquisition (We're just kidding around with the image below, don't mean any harm Lenovo.)
This time around, I'd like it to be in the news for more focused reasons. I'm talking about the firm's latest offering of the Vibe Z2 Pro. One thing I can say for sure is that, this phone is no slouch.
I was about to write an initial impression article on the phone, but this phone has surely got my attention and how! Since this phone is just launched in India and very soon you will see videos of first impressions floating on the internet.
So I've decided to list down the top impressive features / offerings of this device (according to me)
So let's begin… Here are the…
TOP IMPRESSIVE FEATURES / OFFERINGS of the NEW LENOVO VIBE Z2 PRO

Dimensions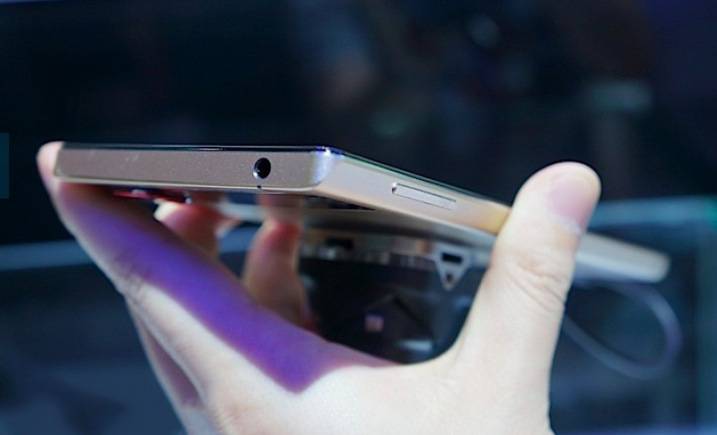 Alright, I know the moment you see the image above you were like, 'How is that a good feature or offering?'. Let me explain this out; now whether you agree or not this phone does have a more than usual foot print created in your hands, but really I don't think this is too much of an issue.
Few points to note:
When your phone is too thin there are issues in gripping the phone while you're on the move, making it more prone to drops.
Plus a slightly thicker phone mostly means a bigger battery and more robust build quality.
Possibly No BendGate 😀
The dimension of the Vibe Z2 Pro is 156 x 81.3 x 7.7 mm, If this seems like a monster let me give you some perspective:
Lenovo Vibe z2 Pro    :     156 x 81.3 x 7.7 mm
Apple Iphone 6           :     138.1 x 67 x 6.9 mm
Samsung Note 4        :     153.5 x 78.6 x 8.5 mm
One way to justify the thickness is that from all the phones in that list this is the only phone with a QHD and the 'Q' here stands for 'Quad' HD. This brings me to the next point.
[symple_divider style="solid" margin_top="20″ margin_bottom="20″]

Screen Resolution
I don't even have to say much about this, I mean it's a 1440 x 2560 pixels which is a 2K display. With all those pixels across the 6 inch screen it manages to deliver around 490 PPI density. The PPI number is not bad at all considering you have a little more of screen real estate too, but seriously this doesn't look bad at all. Trust me it's even better when you see it in person. 🙂
[symple_divider style="solid" margin_top="20″ margin_bottom="20″]

Camera
This beast comes equipped with a 13 mp camera, 3456 x 4608 pixels, also including optical image stabilization so no shaky / blurred out images due to movement, autofocus. If you are a night person & a shutter bug, you should not have issues with this one to due to the dual – LED flash on the rear shooter. The camera also comes loaded with features of Geo-tagging, touch focus, face detection, panorama & HDR. The camera is also capable of capturing 4K resolution videos.
The front camera is no slouch either, it has a 5mp camera in the front. If I'm not mistaken, the front camera is the highest mp camera across all flagship devices. So don't bother of slowing down the number of selfies you share on social networks. 😉
[symple_divider style="solid" margin_top="20″ margin_bottom="20″]

Performance
First things first, a phone with a 2K display is definitely not left out on the beastly specs, I mean you need fire power to fire up all those pixels on that gorgeous screen. This beast is loaded with a top of the line Qualcomm MSM8974AC Quad Core Snapdragon 801 clocked at 2.5 GHZ krait 400, bringing it to par with all the other flagship phones in the market (also consider its market price).
If you are a gamer, there is nothing to shy here too. This phone is an ideal contender for those intense gaming sessions with its 3 GB RAM & an Adreno 330 GPU. So the games don't just look breath taking on that screen but also work effortlessly & seamlessly.
[symple_divider style="solid" margin_top="20″ margin_bottom="20″]

Build Quality
If you are aware of the price of the phone, the build quality must definitely be an important catalyst to you. It isn't cool if the phone has top end specs under the hood but doesn't have a good build quality. Build quality is definitely not a point of concern for this device, it's body is created with a mix of polycarbonate (the band around the rear camera area) & metal armour all around the phone. This may be a reason why the phone weighs around 179 g but it is still lighter that the lumia 1520 which weighs 209 gms.
The profile of the phone might seem thick to most of the people but remember it comes equipped with a 4000 Mah battery. The battery life of the device is not to be commented about now (this will be done in the full review). The battery though the largest selling on any flagship phone also has to power up that bright & beautiful 2K display on a 6 inch display, what will play a crucial part in the battery life is how well the processor's manage the power consumption. In order for one to get the most of a full charge Lenovo was kind enough to also include energy-saving modes in the phone.
[symple_divider style="solid" margin_top="20″ margin_bottom="20″]
Hope this first impressions of the Lenovo Vibe Z2 Pro was helpful. We'll be back again with the full review of the phone with more in-depth information about the hardware and software performance. If you have any questions, feel free to write it in the comment.